Utah Medical Negligence & Malpractice Attorney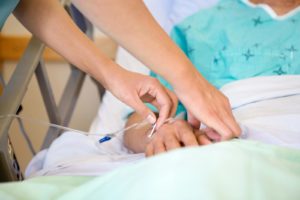 Medical negligence and malpractice is an act or omission by a health care provider that deviates from accepted standards of practice in the medical community and causes injury to the patient. Medical malpractice, very simply, is professional negligence that causes harm to someone and often involves a doctor's failure to exercise the degree of care and skill that a doctor or surgeon of the same medical specialty would use under similar circumstances.
What Are the Four Elements that Constitute Medical Malpractice?
According to the Journal of the American Medical Association (JAMA), the number of people dying from medical malpractice each year in the United States is growing. Medical malpractice deaths have become the third leading cause of death in the U.S. after heart disease and cancer. Malpractice occurs quite frequently with patients being treated inadequately every day, especially in our nation's emergency and operating rooms.
Startling Statistics
It has been estimated that approximately 225,000 people die from medical malpractice in the United States each year. The breakdown of deaths related to medical errors is as follows:
Many people feel that because they signed numerous forms while in the hospital they waived their right to sue, but that is not the case. Signing a consent form so a surgeon can operate on you does not exempt him or her from paying for damages if an error on his/her part results in injury or loss to you. If you sign a consent form giving permission to have your left leg amputated due to cancer, and the surgeon amputates on your right leg by mistake, you are certainly entitled to sue for medical malpractice.
The Process
The first step in deciding whether to pursue a medical malpractice case is to ascertain whether or not you have been the victim of medical malpractice. Not every unfortunate medical outcome is the result of medical malpractice, but if you feel that something is not right or if you know that you have suffered due to medical error, you should consult a qualified medical malpractice attorney to advise you of your legal rights.
The medical malpractice process generally involves attaining and evaluating medical records and other relevant materials. If it appears that the case is strong enough, the next step in the process involves giving written notification of the claims to the parties suspected to be responsible for medical malpractice. Your medical malpractice attorney will be by your side and guide you through the entire legal process.
Your attorney will work with the hospital system and medical law system to find out what your specific rights and legal options are. While you are recovering and healing from your injury, your medical malpractice attorney will be working to get you the compensation you deserve.
If you or a loved one has suffered or died due to medical malpractice in Salt Lake City, Price, Tooele, or any of the surrounding areas of Utah, please contact the experienced medical malpractice attorneys at G. Eric Nielson & Associates today to schedule your free consultation.