What Constitutes Medical Malpractice?
Salt Lake City, Tooele and Price, Utah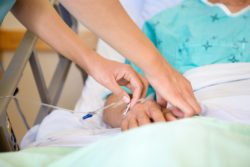 No one likes to think about the possibility of a medical mistake. Yet we, as individuals without medical training, are forced to put our trust in our family doctors, specialists, surgeons and other healthcare professionals.
Unfortunately, medical mistakes and misjudgments happen far too often. And when they do, the Utah medical malpractice attorneys at G. Eric Nielson & Associates, LLC are here to aggressively strive for the answers you need and the compensation you deserve.
What is Medical Malpractice?
Medical malpractice (sometimes referred to as medical negligence) happens when a healthcare provider, such as a doctor, surgeon, emergency medical technician or nurse, strays from accepted standards of medical practice when providing care to a patient and an injury to the patient results.
What Does "Accepted Standards of Care" Mean?
In very simple terms, it means that a doctor has failed to exercise the degree of medical skill and care that another physician in the same medical specialty field would have used in the same circumstances.
Two Questions About Medical Malpractice to Ask Yourself.
If you think you may have a medical malpractice case, ask yourself two basic questions:
Do I believe there was a major mistake made by a healthcare professional who treated me or a loved one?
Did that mistake cause some type of injury or harm to you or that loved one?
If you answer yes to both questions, you may have a case.
Examples of Medical Malpractice
Just a few of the types of mistakes that can result in injury and a medical malpractice lawsuit include:
Compensation for Medical Malpractice Cases
Patients injured by a medical practitioner?s mistake may be able to receive financial compensation for their situation, including damages for medical expenses, rehabilitation, income loss, and pain and suffering.
Have you or someone you love suffered a medical malpractice injury? Please contact the highly skilled Salt Lake City, Utah medical malpractice attorneys at G. Eric Nielson & Associates, LLC today.