Cerebral Palsy Injury Attorney
Salt Lake City, Tooele and Price, Utah
Click here to complete our personal injury case evaluation form.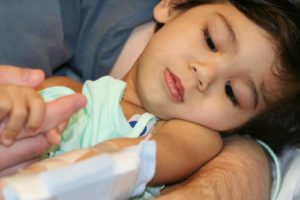 Cerebral palsy is a medical condition that affects the brain's ability to control body muscles and movement. The condition is related to damage to or poor development of the motor areas in the brain.
As the number-one development disability in the U.S., about two out of every thousand babies born have some type of cerebral palsy.
There are two general categories of cerebral palsy:
Acquired cerebral palsy: Brain damage occurs after birth in the first few months or years of life. Head injury and brain infections are common causes.
Congenital cerebral palsy: Brain damage occurs during pregnancy or immediately after birth. In many cases, medical malpractice, due to inadequate care during pregnancy or delivery, can be at fault.
Specific Causes of Congenital Cerebral Palsy
In thousands of cases, the brain injury that causes cerebral palsy can be traced back to the actions of doctors or other healthcare professionals who treat pregnant women and who are involved in the delivery of the baby. The following are common scenarios:
Failure to get a complete medical history of the mother and other family members
Inadequately treating the mother's changing health needs, such as high blood pressure, vaginal bleeding, premature labor, weight gain or loss, or amniotic fluid leakage, during pregnancy
Misdiagnosis or mistreatment of "strep" or other dangerous infections during pregnancy
Miscalculation of the baby's size, which can lead to prolonged time in the birth canal
Failure to monitor and act when there is a change in the baby's heart rate or other conditions
A delayed delivery, or a delayed decision to perform an emergency cesarean section
Not recognizing and treating seizures in the baby following delivery
Improper use of vacuum extraction or forceps
Failure to identify an umbilical cord wrapped around a baby's neck
Untreated jaundice
A missed diagnosis or treatment of meningitis
Symptoms of Cerebral Palsy
The signs of cerebral palsy may be overwhelmingly obvious or subtle:
Delayed motor development
Learning problems
Mental retardation
Seizures
Poor muscle control
Reduced range of motion in limbs
Breathing difficulties
Eating or swallowing difficulties
Vision, hearing or speech problems
Problems with coordination or balance
Involuntary movement of muscles
Hyperactivity or behavior disorders
Abnormal stiffness
Reduced or lack of sense of pain or touch
Getting the Help You Need
If you think your child's birth injury could be the result of a medical mistake, please contact an experienced birth injury lawyer at once. At G. Eric Nielson & Associates located in the Salt Lake City, Utah area, we can answer your questions during a free consultation.
Contact us
For aggressive and experienced representation, contact a Utah birth injury lawyer for a free consultation.