Utah Negligent Hospital Policies Lawyer
Salt Lake City, Tooele and Price, Utah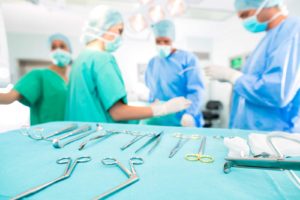 Immediately after "Tina" was born the doctors noticed that she was severely anemic, meaning her blood was carrying very little oxygen through her body. This was caused by a condition known as a fetal to maternal hemorrhage. Essentially, a large portion of Tina's blood had flowed back into her mother.
The doctor failed to recognize the seriousness of Tina's condition. Rather than treat the problem with an emergent blood transfusion with universal donor blood, the doctor placed a non-emergent order for blood that matched Tina's blood exactly.
When the hospital blood bank got the order from the nursery for the blood they blindly began following their procedures which required that all blood for newborn babies contain certain attributes. The problem with the procedure was that the hospital did not have a policy requiring that all blood types with these attributes be kept in stock. In fact, the hospital had a practice of not stocking all blood types.
The blood bank technicians did not tell the doctor they did not have the proper blood and did not tell him how long it would take to get it. And instead of providing the doctor with the universal donor blood they did have in stock, they ordered typed and matched blood from an outside facility.
An emergency transfusion with universal donor blood could have been accomplished in minutes. Instead, the poor procedures and conflicting hospital policies resulted in a four hour delay before Tina was finally given the blood she needed.
Unfortunately, by the time the blood arrived at the hospital and was taken up to the nursery Tina had gone into respiratory failure and suffered a severe brain injury from a lack of oxygen to her brain.
Tina is now 6 years old and confined to a wheel chair. Her vocabulary consists of about 50 words. She will never be able to care for herself.
Numerous experts from around the country were called on to analyze the hospital policies and establish how they directly contributed to the poor care Tina received. The settlement we were able to reach on Tina's behalf is enough to care for her complex needs for the rest of her life.
If poor hospital policies and procedures have resulted in serious injury to you or a loved one, please call G. Eric Nielson & Associates. We can help.