Developmental Delays
Salt Lake City, Tooele and Price, Utah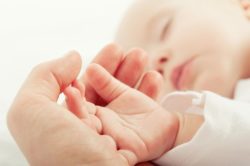 Developmental delays-physical, mental, or both-are a common result of birth injury, and may be a result of problems during gestation or delivery. In Salt Lake City, UT, the law firm of G. Eric Nielson & Associates has build up an awesome amount of experience and knowledge about these injuries and their consequences.
Common causes include:
Insufficient oxygen flow during labor and delivery
Head trauma during delivery
Excess blood loss
Damage from medications prescribed during pregnancy
Premature delivery
The two most common types of developmental delay associated with birth injury are hypoxic ischemic encephalopathy, and cerebral palsy.
Hypoxic Ischemic Encephalopathy
Caused by lack of oxygen during labor and delivery, hypoxic ischemic encephalopathy is a type of cell damage to the central nervous system, including the brain and the spinal cord. It can result in long-term damage to your child's mental and motor development, such as cerebral palsy and mental retardation.. When it is not recognized and treated quickly enough, hypoxic ischemic encephalopathy can result in death.
Cerebral palsy is a broad term used to describe damage to the brain, which may result in physical or mental delays, or both. Caused by cell damage resulting from a lack of oxygen flow to the brain during labor and delivery, cerebral palsy is often diagnosed months or even years after birth.
Some of the symptoms include:
Lack of coordination
Slower than normal motor development, including difficulties rolling over, sitting up, and crawling
Lack of muscle tone
Vision or hearing problems
These symptoms may not show up for some time. But if you believe your child is suffering from cerebral palsy, it is important that you seek both medical and legal help as soon as possible. Prompt treatment can help your child overcome any difficulties, and help improve his or her sense of well being. Read more about cerebral palsy
Compensation for your child's disabilities
We can help you get the compensation you and your family need, including help with expenses such as:
Physical therapy
Academic tutoring
Medical costs
Ongoing care
Pain and suffering
With appropriate therapy and other treatment, many children with conditions such as these can lead happy, healthy, fulfilling lives. So call us today and let us help you get your child what he or she needs to enjoy life to the fullest.
How to get help
If your child has been diagnosed with a birth injury resulting from negligent care during pregnancy or delivery, or if you believe your child's problems may result from medical malpractice, call or email our offices today. We will schedule your free personal consultation with our experienced medical malpractice attorneys, and review your case with you in detail.