Utah Birth Injury Lawyer | Delayed Delivery
Salt Lake City, Tooele and Price, Utah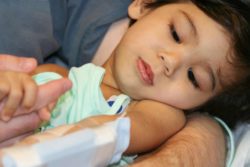 Every pregnant woman hopes for a quick labor and delivery. Unfortunately, that's not always a reality. In some cases, labor goes on too long and delivery is delayed for an unreasonable amount of time, causing serious consequences for the baby.
In the worst of cases, medical malpractice is at fault in delayed delivery. Doctors, nurses and other medical staff members can make mistakes or be too slow in their decision-making. This can result in fetal distress, brain injury and even stillbirth.
Some of the factors involved in delayed delivery medical malpractice cases can include:
Taking too long to decide to perform a caesarean section
Improper use of drugs that induce labor
Misuse of vacuum extraction or forceps during delivery attempts
Not monitoring the fetus carefully during pregnancy, labor and delivery
Not detecting and treating signs of fetal distress during labor and delivery
Failure to recognize a baby in the breech position prior to labor
Insufficient number of doctors and/or nurses to properly care for a woman in labor
A lack of available labor and delivery rooms at the time a woman in labor needs one
Failure to identify medical conditions in the mother that might contribute to a complicated delivery
Miscalculating a baby's size prior to labor
Failure to move forward with delivery while waiting for insurance/payment answers
Misinterpretation of fetal monitoring equipment
Use of faulty fetal monitoring or other equipment
Delayed Delivery and Cerebral Palsy
Unfortunately, one of the most damaging birth injuries associated with delayed deliveries is cerebral palsy. This condition affects the body's ability to control muscle movement and posture. It can lead to a lifetime of special care needs, seizures, mental and physical impairment, and behavior disorders for the affected newborn.
Complicated Legal Cases
Medical malpractice cases, including those involving delayed delivery and cerebral palsy, are complex. If you believe your child has suffered a birth injury due to mistakes made by the medical team, make sure you work with an experienced birth injury attorney.
If you reside in the Salt Lake City, Utah area, please don't hesitate to contact the firm of G. Eric Nielson & Associates today.
Contact us
For aggressive and experienced representation, contact a Utah birth injury lawyer for a free consultation.