Birth Injury Attorney: Treatment
Salt Lake City, Tooele and Price, Utah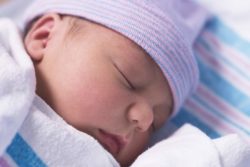 Finding the right birth injury lawyer is critical.  A birth injury is a medical condition in a child caused by problems that occurred during a mother's pregnancy, labor or delivery.
The statistics associated with birth injuries in the U.S. are staggering: medical authorities estimate that at least every six in 1,000 babies suffer from some type of birth injury.
Unfortunately, many birth injuries could have been prevented and can be linked back to serious mistakes made by doctors and other medical staff. In these instances, you may have a medical malpractice claim.
Unfortunately, many children with serious birth injuries may never recover and may need continuous special care to achieve the best quality of life possible.
Birth Injury Diagnosis and Treatment
Many birth injuries are noticeable within 24 hours of a baby's birth. Others, especially those involving damage to the baby's brain, may not show up until months or even years into the child's life.
Some birth injuries, such as tissue or muscle damage, can be overcome more easily than others. Injuries involving damage to the brain are permanent and can present a lifetime of challenges. Due to the diverse nature of these conditions, treatments for birth injuries vary by individual and injury.
Treatments Specific to Birth Injuries Involving the Brain
Some of the most devastating types of birth injuries are those involving the brain. For instance, cerebral palsy, a condition affecting the body's ability to control muscle movement, is caused by irreversible brain damage. In the case of cerebral palsy and other birth injuries involving the brain, a number of treatment possibilities may be used to help relieve symptoms. These include:
Physical therapy
Daily stretching and appropriate exercise
Surgery to loosen tight muscles and release fixed joints, or to address nerve or orthopedic issues
Medication to target particular symptoms, such as seizures and spasms, or to relax tight muscles
Occupational therapy
Speech therapy
Massage therapy
Psychotherapy for behavioral concerns
Other Needs of Birth Injury Patients
Children with birth injuries like cerebral palsy can also benefit from:
Special education
Adaptive equipment and orthotics, such as wheelchairs or braces
Special communication devices, such as language-based computers
Just about all types of birth injuries will require the assistance of many trained professionals to provide care for the victim throughout his or her life.
If you live in the Salt Lake City, Utah area and would like to learn more about birth injury and your legal rights, please contact G. Eric Nielson & Associates, personal injury attorneys, today.