Birth Injury Attorneys: Causes
Salt Lake City, Tooele and Price, Utah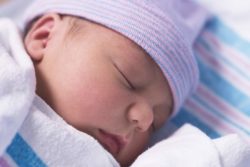 Birth injuries happen to newborns every day in the U.S. These injuries, ranging from mild to severe, are associated with some type of problem that occurred during a mother's pregnancy, labor or delivery.
A significant amount of birth injuries are often associated with situations such as a mother's prolonged labor, a baby in the breech position, a premature delivery, or issues relating to a baby's difficult passage through the birth canal.
Types of Birth Injuries
Birth injuries can range from light bruising of the skin to serious, life-affecting organ damage. Some of the most common types of birth injuries include:
Swelling
Bone fractures
Infection
Cuts and scrapes (from forceps use)
Muscle, tendon or other soft tissue damage
Paralysis or other nerve damage
Brachial plexus injury
Brain damage, including the development of cerebral palsy
Excessive bleeding
Spinal cord damage
Factors That Cause Birth Injuries
Sometimes, no one is at fault, and the trauma and injury to a new baby simply could not have been anticipated or prevented. Other times, however, birth injuries occur because of medical malpractice – when healthcare professionals make poor decisions or treatment mistakes, or when they act outside of standard medical protocol.
Some of the most frequently reported causes of birth injuries are:
Allowing a baby to remain in the birth canal for too long
Failure to monitor and act quickly to a fetus in distress
Misuse of forceps or vacuum extraction
Failure to diagnose and treat a compacted or twisted umbilical cord
Not recognizing a baby too large for the birth canal
Failure to identify and treat seizures in a newborn
Failure to recognize and treat Me conium Aspiration Syndrome, a condition where the baby inhales amniotic fluid and his/her own fecal matter
Unacceptable force or pressure on the baby during delivery
Failure to observe and treat changes in the mother's health, such as the development of toxemia, during the pregnancy
Failure to get a complete medical history on the mother and other family members that could signal potential delivery problems
Failure to administer or improperly administering oxygen to a newborn
A delayed delivery, or a delayed decision to perform an emergency cesarean section
Failure to treat infections in the mother
Prescribing improper medications
If your child has suffered from a birth injury, don't let medical mistakes go unchecked. It is important to seek out legal assistance quickly.
If you live in the Salt Lake City area of Utah and would like to learn more about your legal rights following a birth injury, please contact G. Eric Nielson & Associates today.
If you need a birth injury attorney to represent you in your birth injury, or cerebral palsy medical malpractice lawsuit, contact the birth injury medical malpractice lawyers at G. Eric Nielson & Associates in Salt Lake City, Utah.