Salt Lake City Wrongful Death Attorney
Salt Lake City, Tooele and Price, Utah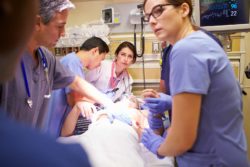 38-year old "James" was admitted to the hospital for a very simple surgical procedure. Upon admission, the hospital nurses took a detailed history from James and his wife. James indicated on the history form that he had sleep apnea, a respiratory disease that sometimes caused him to stop breathing at night. James' wife also told the nurses and doctors about this condition before the surgery.
James spent the night in the hospital prior to his surgery. During that night, the nurses saw that he was having a hard time breathing so they kept turning up the oxygen they were giving him through his nose. They never told a doctor he was having a hard time breathing and they never did anything to figure out why this was happening. They also observed times when he would stop breathing all together.
The next morning James went into surgery. The procedure lasted less than half an hour. James was then sent back to his room. He was given multiple doses of pain medications that the nurses knew would suppress his respiratory abilities. Throughout the next twelve hours the nurses continued to notice that James was having a hard time breathing and was requiring more oxygen. Still, they did not tell a doctor what was going on and they failed to put James on a monitor that would sound an alarm if he quit breathing.
At two o'clock in the morning a nurse walked into James' room and realized that his face was blue and he was not breathing. James left behind a wife and 6 year-old triplets.
This wrongful death case was settled for an amount that would take care of James' family for a very long time